WAEC CHEMISTRY Practical Questions and Answers 2020
WAEC CHEMISTRY Practical Questions and Answers 2020, On the contrary, the question and answers to WAEC 2020 Chemistry Expo is currently available in our website. In this article, we will show the question that is bound to come out and also how you can pass the question for free. Initially, passing examination in Nigeria something is difficult based on the multiple questions asked during the exam. During 2015 I took part in the examination and was able to find some repeated question that usually come out. In this article, I will highlight the year in which you can focus on.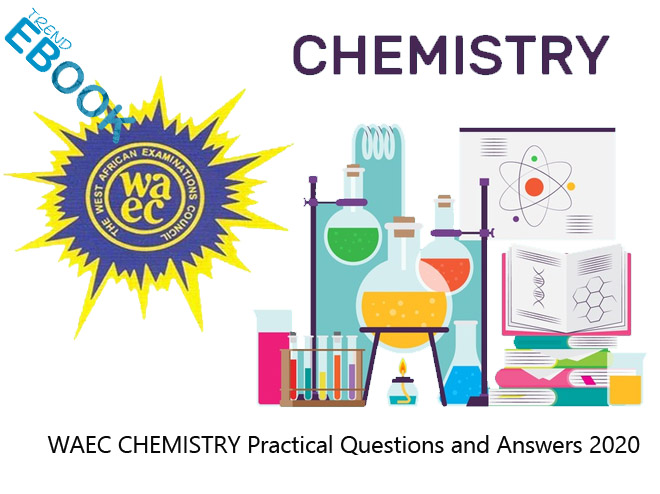 Furthermore, WAEC which is known as WEST AFRICA EXAMINATION COUNCIL is a very popular examination in countries like Nigeria, Ghana, Sierra Leone, Gambia, and Liberia that takes part in the examination. Question that are bound to come out are usually difficult to suggest, which is way it's compulsory for you to read your past question. But, based on our experience in WAEC, and other examination, we were able to dedicate popular question you'll always find.
WAEC CHEMISTRY PRACTICALS 2020 QUESTIONS AND ANSWER
In the meantime, the WAEC Chemistry Practical 2020 which is Chemistry 3 (Alternative D) is take place Tuesday, 18th August, 2020 from 9:30am – 11:00 am. Questions that's 100% to come out in this WAEC Chemistry Practical 2020 includes
Question  1:
D is 0.095 mol dm-3 HCI
E is a solution prepared by diluting 10 cm3 of a saturated solution of NaHCO3 at 25° C to 1000 cm3 with distilled water.
Put D into the burette and titrate it against 20.00 cm3 or 25.00 cm3 portions of E using methyl orange as indicator. Repeat the titration to obtain consistent titres. Tabulate your burette readings and calculate the average volume of D used.
The equation for the reaction involved in the titration is
NaHCO3(aq) + HC1(aq) → NaC1(aq) + CO2(g) +H2 O(l) [10 marks]
(b) From your results and the information provided above, calculate the
(i) concentration of E in mol dm-3;
(ii) solubility of NaHCO3. [5 marks]
c) State (i) the effect of the gas released during the reaction on damp litmus papers.
(ii) one chemical test to confirm the gas released. [4marks]
(d) (i) Name one chemical industry that uses this gas as one of its raw materials.
(ii) List two other processes that can release this gas into the atmosphere. [3 marks]
Answer:
(i) CDVD = 1
CE VE 1
CE = CDVD
VE
= 0.095 xVD
VE

= P moldm-3 say
OR
1000 cm3 of D contain 0.095 moles of HCI
\ VD of D will contain 0.095 x VD moles of HCI
1000
From the equation,
1mole of HCI reacts with 1 mole of NaHCO3
∴ 0.095 x VD mole HCI will react with 0.095 x VD moles of NaHCO3
1000 1000

Hence,
20/25 cm3 of E contain 0.095 x VD moles of NaHCO3
1000

∴ 1000 cm3 of E will contain 0. 095 x VD X 1000
1000 20/25
= 0. 095 x VD = P moldm-3 say
20/25
In (b)(ii), only few candidates correctly calculated the solubility of NaHCO3 thus:
The dilution factor of solution E is 10:1000 = 1:100
Solubility of NaHCO3 = 100 x P moldm-3 = Q moldm-3
OR
CfVf = C1V1

C1 = CfVf
V1
= P x 1000
10
= 100 x P = Q Say
Question 2:
(a) Sample F is a solution extracted from a fruit.
Test F with litmus papers. [3 marks]

(b )Divide F into three portions in test tubes.
(i) To the first portion add 2 drops of methyl orange.
(ii) To the second portion add half a spatula of Na2CO3.
(iii) To the third portion add few pieces of magnesium ribbon. [9 marks]

(c) Put about 1 cm3 of bench H2SO4 into three separate test tubes.
(i) To the first portion in the test tube add 2 drops of methyl orange.
(ii) To the second portion in the test tube add half a spatula of Na2CO3.
(iii) To the third portion in the test tube add few pieces of magnesium ribbon. [7 marks]
(d) Compare the reactions of sample F in 2(b) with that of dilute H2SO4 in 2(c) [1 mark]
Answers:
| | | |
| --- | --- | --- |
| Test | Observation | Inference |
| F + litmus | Turns blue litmus paper red but had no effect on red litmus paper | F is acidic |
Test
Observation
Inference
(b)(i) (ii) (iii)
F + methyl orange F + Na2CO3 F + Mg ribbon
Turns methyl orange red/pink Effervescence/ evolution/bubbles of a colourless gas that turned lime water milky/turn blue litmus paper red.
Effervescence/evolution of colourless gas which gives pop sound with burning splint
F is acidic CO2 liberated from Na2CO3.
F is an acid. H2 liberated
Test
Observation
Inference
(c)(i)
(ii) (iii)
H2SO4(aq)+ methyl orange H2SO4(aq) + Na2CO3 H2SO4(aq) + Mg ribbon
Methyl orange turned red Effervescence/ evolution/bubbles of a colourless gas that turned lime water milky/turn blue litmus paper red.
Effervescence/evolution of colourless gas which gives pop sound with burning splint
CO2 liberated. Gas is H2