TikTok is an online place where you can share your creativity and expression. If you are looking for fun, TikTok is a very good way to start. However, there are some guidelines on the platform. These guidelines are known as the TikTok Guidelines. These guidelines are sometimes regarded as a code for a safe and friendly environment on the platform. You should know that violation of these guidelines may result in your account or content removed or permanently deleted.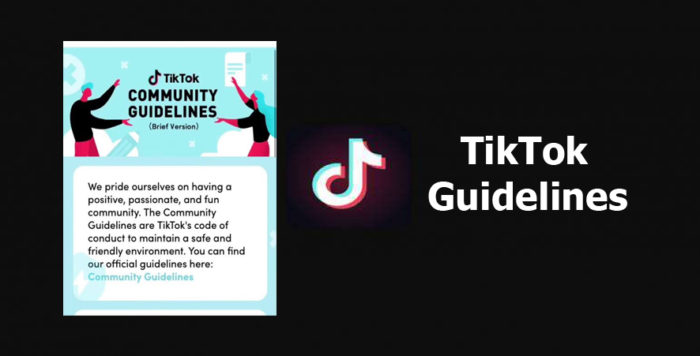 TikTok Guidelines and policies exist for one purpose. This purpose is to foster trust, respect and create a positive environment for every user on the platform. Shortly, we will be discussing the guidelines and policies of the platform. TikTok wants all users to acknowledge the fact that by joining the platform, they are joining an online global community. Therefore, users are not expected to post content that harms others or even encourages them to harm themselves.
What are the TikTok Guidelines?
Below are some of the guidelines and policies of the online platform TikTok.
Harmful or Dangerous Content
TikTok as an online global community does not support the upload of harmful or dangerous content. Terrorists or criminal organizations are strictly prohibited from using the platform.
You are not expected to post, send or even share content that encourages dangerous acts, suicide or self-injury.
Do not use TikTok to encourage or even sell weapons such as bombs, drugs or any other goods that have been prohibited by local law.
TikTok is not a platform to post, share or send any content that involves illegal activities. Users are not also encouraged to promote online gambling or even financial schemes.
Graphic or Shocking Content
TikTok is simply not the platform for violent, shocking, graphic or sensational content. The platform is very strict. And they go by a general rule. If you are not going to show the contents you want to post on the platform to your parents or children, then you should not post it at all.
Discrimination or Hate Speech
As an online global community. It is against the rules of TikTok to incite violence against other users of the platform. As a user, you are not expected to post, share or send anything that may trigger hostility or provocative remarks or comment.
Nudity or Sexual Activity
This is one of the guidelines that must be respected on TikTok. The platform strictly prohibits any content that contains, encourages or promotes sexual assault. Also, sexual abuse or sexual violence. You should not post content that contains nudity.
Child Safety Infringement
TikTok takes child safety very seriously. They may report you to law enforcement and cooperate with them. That is, if they find your content target, endangers or sexually endangers children.
Conclusion
There are many other guidelines and policies of the platform. Some of them are not allowing harassment or cyberbullying. Others include impersonation, spams, scams, misleading contents, intellectual property or other malicious activity. These guidelines are being updated frequently by TikTok. If you do not want your account or content deleted. You should make sure you follow them.