The Protonmail app is available for every Protonmail user to download for a more convenient way to manage your emails. The interesting fact about the app is that it is free to download and available on any app store you want to get it from. Protonmail app is one of the powerful email messaging app that allows you to send and receive emails anywhere, anytime. The email app provides more convenience to access, secure, organize, and manage your emails than the use of the official website.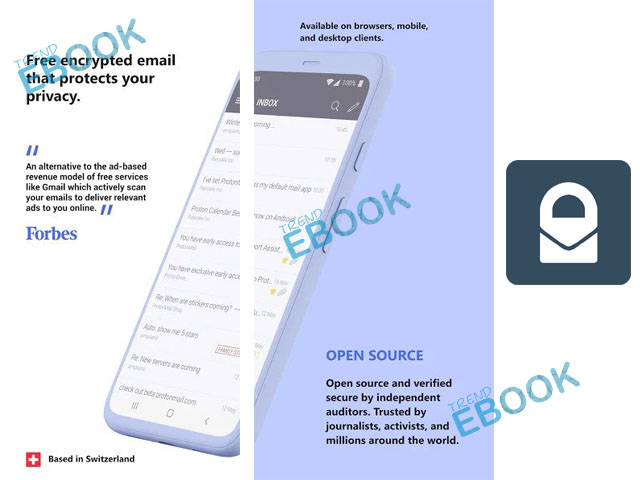 Furthermore, the Protonmail app doesn't require so much space on your device and it also has lots of unique features for you to enjoy as a user. The app gives you the privilege to enjoy all about the email service provider. However, you can sign up and sign in using the app directly on your mobile device. Likewise, the email app is compatible with any device that includes Android, iOS, and others.
Features of Protonmail App
One unique feature about the protonmail app is that you can download it on your desktop and also your mobile device. But the apps are different as the settings of desktop is different from that of android. Here are some other features of protonmail app;
Create a new Protonmail email address
Send and receive emails automatically
Receive push notifications of new emails
Set timers for messages to deduct itself after it has been sent
Customize emails with swipe gestures and labels.
There are more and more features of the Protonmail app.  You get to enjoy yourself a lot using the Protonmail app. It can also be downloaded on your desktop. Doesn't matter which you are using. Be it Mac, Windows, iOS, or Linux.
How to Download the Protonmail App
There are different download procedures as the process for Mac is different from the process of other desktop devices so is it also different from the mobile devices. Therefore, below some steps would be listed for your devices respectively to have a successful Protonmail app download. Keep in mind, for desktop it's known as the Protonmail bridge.
For Desktop Apps
Visit the website https://protonmail.com/bridge/install.
Download the Protonmail bridge.
Then add your Protonmail account.
 Put in your email client which is either your outlook, thunderbird, or apple mail.
For Mobile Sevices
Open your device app store.
Using the search engine, locate the Protonmail.
Click on it from the alternatives that would be listed for you.
Then click on the install or get Button.
After you have followed these steps, you can now access the app on your device. However, the Protonmail desktop app is different from Mac has its own. After completing the download of the app, you can set up the service on your device by either signing up or logging in to your email account.