Have you heard of Palmpay a very smart way to make payments? If not, now is the chance to know about this unique payment platform. With the internet, it is already certain that there are so many ways to make payments but not all are rewarding. Palmpay is a rewarding way to make payments. With Palmpay, you can do free bank transfers, get discounts on airtime and bills. Also, you get to perform so many other monetary transactions free of charge. The app is very secure, simple, and easy to use when it comes to sending money and performing other transactions to enable you to do.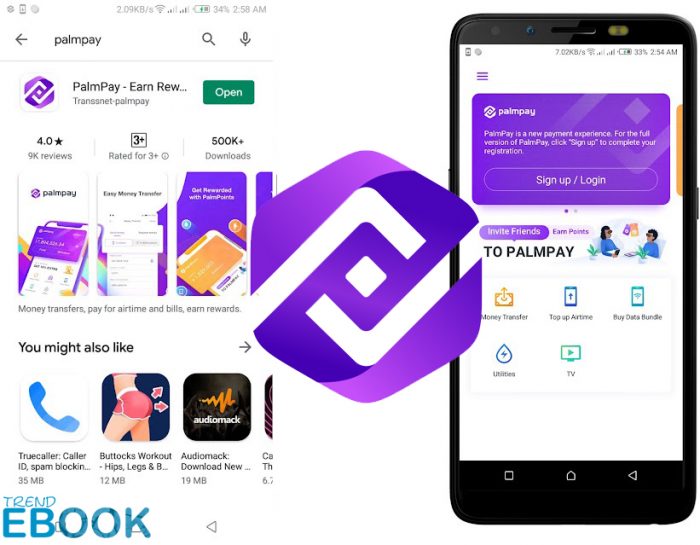 Using Palmpay enables you to get rewarded with Palmprint which is one Palmprint you get is equals to one naira. You can send money to your family, friends, colleagues, and loved ones using Palmpay. Also, to make transfers from your bank and save up the money supposed to be paid for charges. With Palmpay, there are so many features to enjoy. But Palmpay is limited to some countries which include Nigeria and Ghana. To use the Palmpay app and get access to all of its features, you have to first process the app download. Read further to see the unique features and also how to go about the Palmpay app download.
Palmpay Features
As mentioned earlier above, Palmpay has so many features for its users for free without any form of payment. To enjoy these features, you only have to install the mobile app. Then sign up for Palmpay providing the required personal info then you can now get free access to all the features it has to offer. These features include;
Free services
Earn up to 15% cash back after purchasing airtime and also 3% after paying your bills
Participating in its frequent promotions earn you more coupons everyday
Send money to other Palmpay wallets for free irrespective of any amount you are sending
Have your first 3 transactions free and after that pay just 10 naira to do any other
Using your ATM card or any of your banking mobile app, you can transfer money to your wallet.
Earn 300 naira in Palmpoints for inviting your friends to Palmpay app
Above all, you can claim 30,000naira awoof money give away fund to dash to your friends and also get back. Also, you can give and earn up to 250 nairas per friend. Seen all the features, though there are still more features. Want to get access to them then process the app download with the steps below.
Palmpay Download
How do you enjoy all the above-listed features if you do not process the app download? Downloading the Palmpay app is very easy. It is just like downloading every other app using your mobile device app store which includes; App store for your iOS and Google play for your Android. To download the Palmpay app, all you just need is an internet connection. With that, follow these steps below to install the Palmpay app on your device.
Open your Mobile device app store or google play store
Locate the app using the store's search engine
Click on the app from the result
Tap on the install or get button to process its download
The download doesn't cost much MB and doesn't take much space on your device. However, after the download is complete, you can now open the app to process its sign-up. See below on how to sign up for Palmpay to start making money transactions which include payment of bills, making transfers, getting rewards, and many more.
How to Sign Up
Signing up for Palmpay enables you to begin your rewarding payment experience. The sign-up is however only applicable to two countries which include Nigeria and Ghana. If you belong to any of them, here are steps on how to sign up for Palmpay below;
Open the app
On the homepage, locate the me icon
Tap on it
Click on the sign-up button
Enter your name (first name and surname)
Enter your date of birth
Enter your mobile number
Verify your account using the verification code
Provide other information required of you
If you are not up to the age of 18, your sign-up would not be processed. This is because the platform required you to be from the age of 18 and above. After signing up, you can now sign in to your account anytime to send and receive money. Also, to pay bills, and many more.