Ocean freight is also known as Ocean shipping and this also means the transportation of cargo by means of sea. This is a huge part of cross-border trading as it functions as a form of taking business goods from one part of the world to another.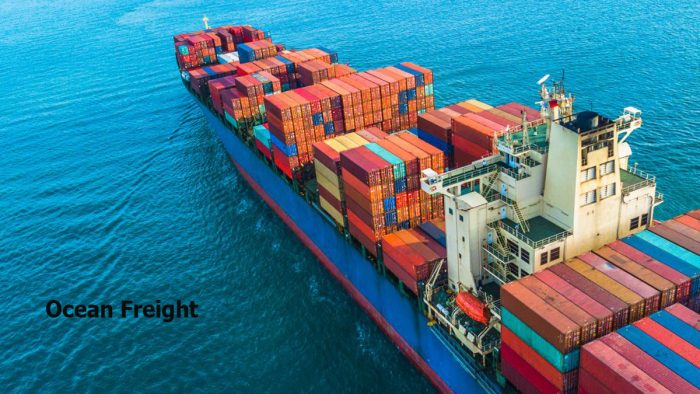 Furthermore, it is an effective method of transporting heavy goods with ease and safety guaranteed. With reliability assured, you can be sure 90% of the problems that come with other forms of transportation don't affect the shipment of bulk goods with ocean shipping.
Also, when it comes to the costs do transport shipments from one foreign country to another, that doesn't pose an issue with ocean freight. There are tons of possibility that comes with ocean shipping, especially for a big company that transports heavy goods.
How Does it work?
In the case of ocean freight, all the goods are lifted and packed into their shipping containers for transport. What happens next is the freight forwarder booking containers or space with the shipping agent.
Furthermore, all the shipments move to the port where it passes through customs at the point of origin. Also, the goods are loaded into full containers or shared containers and the shared containers depend on the volume it has. Then, they are loaded on the cargo ship for transportation.
Next, when they arrive at the destination, the goods pass through customs once again and then are arranged by the shipping agent. Once the payment of taxes and duties are done, they are released for delivery to the recipient. The goods being delivered are either delivered to the recipients in the same containers or in pallets.
Benefits of Ocean Freight
There are many ways in which ocean freight proves more of a benefit to you on a large scale. Here are ways that ocean shipping benefits you:
It is highly cost-effective: This is a really good deal for you since the ocean shipping industry offers a freight cost to customers that is competitive. This makes it more attractive as a deal and in high demand.
Environmentally Friendly: While the weights of good that has to be transported through ocean shipping are heavy in size, that doesn't put pressure on the environment at all. Ocean shipping emits less CO2 and has a lesser carbon footprint.
Efficiency: Another cool thing with ocean shipping is that shipping containers can do what is called cost sharing. What this means is that the smaller shipments can be shared with other cargo in order to fill a container.
Safety: All shipping vessels are specially designed to contain hazardous cargo quite safely. What's more, is that all containers are secured tightly as they are even locked.
How Long Does Ocean Shipping take?
There could be a fixed time by which your ocean freight agents will let you know, but they are various factors that greatly after the delivery time. There are of course general factors like the time spent on the water and the time it takes to do the door-to-door shipment.
Another factor that plays into this is the location of the goods and the delay in shipping. Furthermore, when goods are held up by customs or when there is insufficient documentation with the importer, these also play huge roles in the delay.
However, you are advised to add another week to the end of whatever time frame you are given as the delivery rate. Though it is said that it usually takes anywhere from 20 -45 days.
Major Ocean Freight Shipping Carriers
There are many shipping companies that you can work with to get your cargo imported from another country down to your country of destination. You could always start with shipping companies around you or research. Still, here are some of the major ocean freights you can work with:
Hapag Lloyd
China Shipping
CMA CGM
Maersk Line
COSCO
Evergreen Marine
You can try doing more research to get in touch with shipping companies that you can work easily with.
What Cargo can be shipped by ocean freight?
The main type of goods that can be shipped by ocean freight is mainly heavy and bulky goods. This type of cargo often includes Dry bulk, liquid bulk, container cargo, and roll-on/roll-off.
What are the Rates for Ocean freight?
The best type of ocean freight rate deal that you get is the one that the shipping company offers you. Any ocean freight company that you chose to work with can offer the best rate deal you could ever find.
However, ocean freight costs around $2 to $4 per kg. A China-US shipment can take about 30 to 40 days or more. This often brings a cost of about $5-8 per kg.