Netflix Movies 2017
Are you looking for 2017 movies? There are some notable movies, TV series and documentaries that were released in 2017.  Since there are movies been released every day most of these movies have been archived, but that doesn't change the fact that they are great. You don't have to look any further because I will be telling you about a platform that exists, that you can still find 2017 movies. The name of this platform is Netflix. In this platform, you can access the 'Netflix movies 2017'. No matter how long ago the movie has been released you can access them here.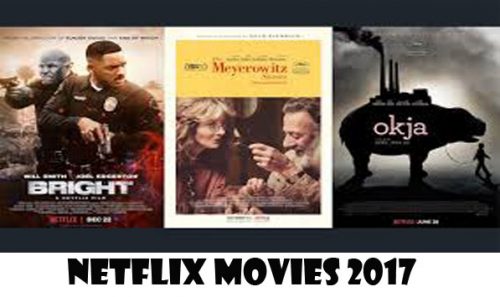 Just in case you do not know what the Netflix platform is all about, here is a quick recap. The Netflix platform is more like most internet cable television platforms. But the Netflix is slightly different. Netflix is cheaper and easily accessible. Netflix is now bigger than cable TV in terms of subscribers.
How to Get Access to Netflix Movies 2017
To get access to the 2017 library of Netflix movies in the Netflix platform is easy. All you need is an internet enabled device, a Netflix account and an active plan or subscription. If you do not have an account with the Netflix platform you cannot access the Netflix library of 2017 movies. But if you still want to make use of this platform and you do not have an account, create your own account. To create an account with Netflix visit the official Netflix page online to register an account. The whole sign up process is made up of three stages. Complete the whole sign up process to gain access to Netflix's library of 2017 movies.
The Top 50 Movies of 2017 Streaming On Netflix Right Now
Below is a list of best 50 movies of 2017 streaming in Netflix right now;
11/8/16
1922
A gray state
A woman, a part
All these sleepless nights
The bad batch
Berlin syndrome
Burning sands
Busters mal heart
Catfight
Chasing coral
Creep 2
The death and life of marshal P Johnson
The diner
Donald cried
First they killed my father
Graduation
Guardians of the galaxy vol 2
Icarus
I don't feel at home in this world anymore
The incredible Jessica James
Jim and Andy: the great beyond
Karl Marx city
Last men in Aleppo
The meyerowitz stories
Mr. Roosevelt
Mudbound
Nocturama
My happy family
My life as zucchini
Lovesong
Okja
Oklahoma city
One of us
The ornithologist
Raw
Slack bay
The son of joseph
Staying vertical
Strange weather
Strong island
Super dark times
The survivalist
Tramps
The transfiguration
To the bone
The trip to Spain
The unknown girl
Vincent n roxxy
The void.
The list above consists of the 50 best movies of 2017 streaming on the Netflix platform right now. So therefore log in to your Netflix account with your Netflix log in details to access this function.