Most people do ask about what the more app is for? More app is one of the most interesting and entertaining apps around the world today. More means when something is getting larger, so now when talking about the platform is just like when you are getting vibes on vibes through a social media app. The platform is created for people to be entertained, happy, catch cruises and have a lot of fun with trending news from interesting topics, gossip from entertainment, etc. Also, on the platform where you make your short videos such as comedy, drama, post photos, trending news, and many others.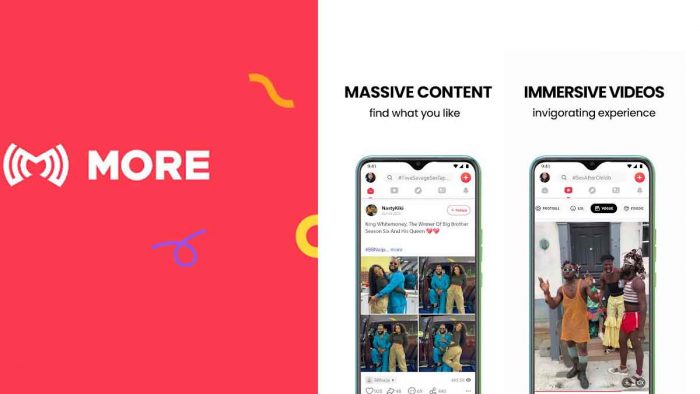 More app is a kind of social media platform with a lot of images, videos, tribes, and opinions, on this app, you are free to share funny and enjoyable moments, or post your blogs like photos, videos on the app and you can chat with people and make friends there. In more, you can find your hot and lastest gist. And also you may select your favorite tribes such as trending, celebs & gossip, news, football, relationship, sport, lifestyle, vogue, discover, and many others.
In More, make sure you join your best tribes, in tribes, you are likely to browse a constant, feed of content like news, foodie, football talk, lifestyle, and videos. The platform is just like TikTok, where you can watch people's posts and also post your own for others to watch. In the app, you can find celebs and other higher people.
Features of MORE App                 
Many people want to know the feature of MORE, although the app Is not famous, most people do not know the platform. Here are some interesting features of the platform. You can use it to discover things around, trending, news, celeb & gossip, lol, and so many other entertainment gists.
Entertainment gossip. This is where you can see funny things such as gist, gossip.
Trending news. In this place you would be able to see trendings news and also you can read news on the app.
You can get answers to questions, when you ask a question on the app it would be easy to see people answer your question.
Football news. In the app, there is a lot of football matter to say about, like live score, match details, professional stats, transfer details.
Relationship. This is where people who may be searching for life partners go. If you are single and you want to mingle relationship in MORE app may help you to locate your partner.
Foodie. In the app, they will help to learn how to prepare a lot of special dishes.
Comedy and a short video. On the platform, videos are available in many quantities, you can select the ones you would like to watch and you can also make your video clip and post it.
You can easily share funny jokes and top memes on WhatsApp and other social media apps. Lastly, you can be a follower and someone else can follow you on the app.
How to Download More App
More APP can be easy to download on a phone when you go to your play store, then download the MORE'app. Then sign up, select your ID and password.
Go to play store and or iOS store.
Search for MORE apps.
Click on the app.
Then tap install.
And continue the rest of it.
This is what to do when you want to download the More app. Once you download the app you can watch your favorite videos and see discover more new things.