You probably would have heard of Kingdom Hearts Games which happens to be one of the best action and adventurous games for all gamers across the world. This game has been designed or created to provide all gamers with the best gaming experience across their mobile devices and consoles. Besides, Kingdom Hearts Games comes in different series which makes it more fun and fascinating. If you haven't heard about the game, no need to worry; you can make use of our simple and clean guide to access all your favorite Kingdom Hearts Games.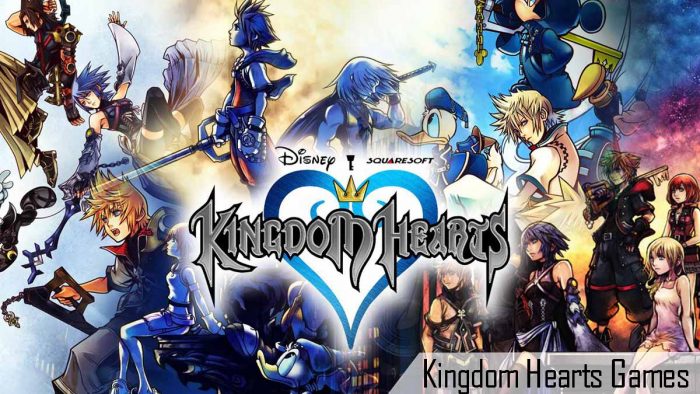 Meanwhile, Kingdome Heart Games was developed and published by Square Enix formerly known as Square. It is also the collaboration of Disney Interactive Studios and Square Enix combining elements and characters from the two companies. The first series of Kingdom Hearts Games was first released in 2002 on PlayStation 2 and ever since its inception; the game has been making waves in the gaming industry. Although, it seems pretty hard to keep track of the game considering what is going on across the world. Nevertheless, you will need to understand how to play them. You can check out the next outline for the chronological order of the game.
Best Kingdom Hearts Games in order of Release
If you wish to play Kingdom Hearts title based on the released order. Here is the best order to play the game with your friends and loved ones;
1 Kingdom Hearts
Kingdom Hearts was the first title released and it still remains the best one to play if you are in need of a good introduction. You get the full list of what the game entails as well as the storyline of the game. The three main characters in this title include; Sora, Riku, and Kairi plunging you into the magical worlds of your favorite Disney movies. Note that; this title is available on PS2 and is a great way to start your Kingdom Heart Gaming experience.
2 Kingdom Hearts: Chain of Memories
This title was first released on Game Boy Advance in 2004. It features a totally different beast to the previous entry in the series and once you are into the game, you certainly love this title. Chain of Memories is more of a card-based strategy game. It is designed to provide you with key story information about the game that you will play next.
3 Kingdom Hearts II
Kingdom Hearts II Series was officially released to PlayStation 2 on December 22, 2005. It takes after the events of a chain of memories. In addition, the game captures the attention of gamers with its extremely positive review and it sets up new questions too. You get to understand this series once you carefully play the Chain of Memories title.
4 Kingdom Hearts 358/2 Days
This title was released on Nintendo DS on the 30th of May, 2009. It was first released as Kingdom Hearts Coded before it was turned into a Nintendo DS game for global release. Kingdom Hearts 358/2 Days is an action role-playing puzzle game set after the events of Kingdome Hearts II. If you are a lover of origin stories, you certainly need to check this series out.
5 Kingdom Heart Birth by Sleep
To enjoy more origin, you can play this series with your friends and loved ones. Kingdom Heart Birth by Sleep was released on PlayStation Portable on January 9, 2010. The game features ARPG and Hack Slash Gameplay where you travel through multiple Disney worlds both familiar and new.
6 Kingdom Hearts Re: Coded
Kingdom Hearts: Re-Coded is another interesting title to check out. You will get to enjoy every adventure and action of this particular game which can be played without accessing the other series on the game. For more narrative about the game, you can also watch the movie during your leisure time.
7 Kingdom Heart 3D: Dream Drop Distance
Dream Drop Distance was released on Nintendo 3DS on March 29, 2012. It follows Sora and Riku as they undergo the mark of mastery exam and throughout the game, you can take control of both Sora and Riku. Players can easily switch through the Drop System as they travel through time and explore multiple sleeping worlds. It is quite an interesting and amazing title to check out.
8 Kingdom Hearts X
Although, many think Kingdom Hearts X is strange this series still stands out to be a fascinating and interesting title in all kingdom Hearts Games. It was initially released on web browser before it was turned into a mobile game called Kingdom Hearts Unchained X. It is a title worth checking out.
9 Kingdom Heart Birth by Sleep: Fragmentary Passage
Kingdom Heart Birth by Sleep Fragmentary Passage is short but very interesting to play. It takes less time to get through this game than any other title. Also, this title is designed to provide you with the best gaming experience anytime and any day.
10 Kingdom Hearts III
Kingdom Hearts III is currently one of the recent titles and was released in 2019. It is available on PlayStation 4 and Xbox One and is the first motile platform released game. During its launch, this title gained tons of positive reviews from Kingdom Hearts Games Fans from across the world. It is a series also worth checking out.