King.com is a social gaming company popularly known as king digital entertainment. This is a develops platform that games for a mobile device such as iOS, Android, and windows phone. King games are not just for mobile platform only they also have games for Facebook and windows 10.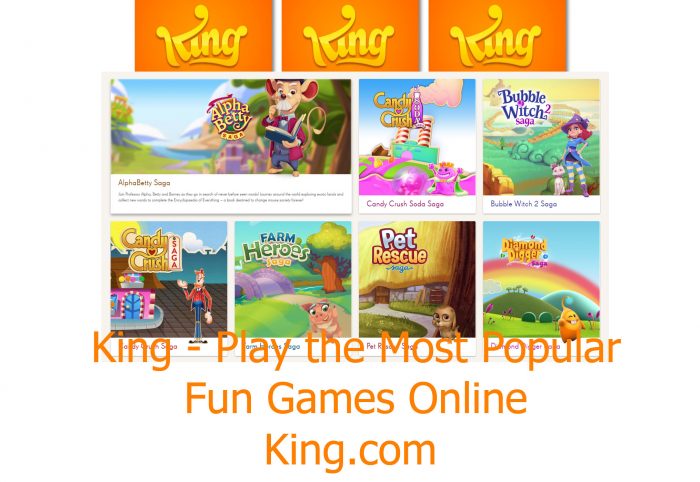 One of their top game was the popular candy crush saga. Which was also the game that brought them to limelight. Candy crush sega was realized in 2012 across all mobile platform. this platform was later acquired by Activision Blizard in February 2016 for a total of $5.9 billion.
King digital entertainment pc is headquartered in stockhom, sweden and was founded in August 2003 by lars markgren, Partrik Stymne, Riccardo Zacconi, Sebastian kuntsson, Thomas Hartwig, and Toby Rowland. this portal has over 1400 employees.
King.com 
When it comes to all-around mobile games developing. This is the official gaming website for all king games. There are over 200 top trending games on king.com that are played worldwide. This games includes Candy Crush, Farm Heroes, Pet Rescue and Bubble Witch.
This has over 350 million users monthly as at third quarter of 2016 across social, web, and mobile platform. This is a platform where you can get games that have the ability to synchronize across all platforms. This allows the user to switch from one platform to the other and pick up from where they left their game on the other platform.
This is something that most gaming platforms don't do. With this, you can play your game anywhere, anytime, and on any device when you login to your account. This is one of the best gaming features i have ever seen. With free games where users don't have to pay in other to download games from this platform.
This portal has a game studio in over 7 countries namely Stockholm, Malmo, London, Barcelona, Berlin, Singapore, and Seattle. There are also king.com offices in San Francisco, Malta, Seoul, Tokyo, Bucharest, and Shanghai.
How to Create a King Account
Creating an account gives you access to switch from one platform to another and get all your king games data sync to that device. If you want to create and account visit the official king registration portal which is https://apply.king.com/register/ using your web browser.
Launch your web browser and enter the above link in the address bar section on your browser.
Fill in all the necessary information such as Email, Password, First Name, and Last Name.
Click on the create icon when you are done entering your information's.
You can also sign up using your LinkedIn account. It can setup your profile when you are done with the above steps. You can add address and mobile number to your profile and even photo.
King.com Login
You can also login to you account you created using the login process below. But note that you need to complete the signup process that is you need to setup an account in other to have login information.
Launch your web browser and enter www.king.com in the web address section.
Click on login icon on the top right menu section.
Enter your login information's and make sure they are correct (email and password).
Click on the login icon to login to your account.
Logging into your account is fast and easy when you enter the correct login information. A user with incorrect login information won't be able to login to their account.