Jobberman.com is the number one leading web platform for job seekers in both Nigeria and Ghana. This is a platform that helps to fight the problem of unemployment. Jobberman jobs are for both employers and employees. Jobberman.com is one of the best practice that shows that technology is a problem-solving tool in Africa.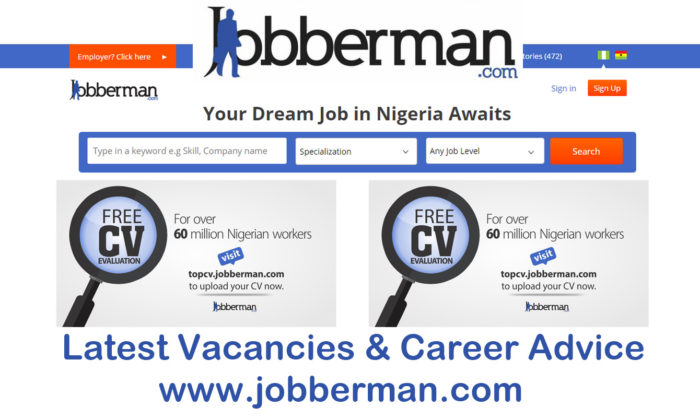 With on the platform finding a job of your choice has always been easy where you can find current job on Jobberman. Also looking for the right person for the job is also an easy task on www.jobberman.com web platform. This is regarded as the top choice for both job seekers who are in search of a job and job providers. Get your preferred job today when you log on to this platform.
Why You Need to Visit Jobberman
Jobberman jobs today are a fast and easy way of job recruitment whereby you have the option to see thousands of individuals seeking for a job. There are over five hundred successful stores that are been shared on the web platform. For employers, it has always been easy to get an individual who capable of the job they seek for.
There is much here to help every individual in terms of learning a new career. based on the fact that there are the latest jobs on Jobberman. Jobberman's learning is here for you. You can start up a new career when you click on the learning tab on the main menu section. There are helpful tabs on the main menu section for job seekers. These are:
Forum.
Career Advice.
Jobberman Learning.
Free Cv Appraisal.
Success Stories.
A user can visit the forum section and get access to chat with other members who are on this platform. There are also job vacancies that is been posted by members in the forum section. Users who are in search of a job can make use of the free cv appraisal section at the top menu section. This is to make sure your CV pass the 30 second test by your employer.
How to Make Use of Free CV Appraisal
This is a very helpful section of the platform to help job seekers evaluate their CV by a trusted CV expert. There is also a section where you can see an example of an evaluated CV. This is one thing that employers will always look at for in giving out jobs. Below is how to submit your CV for appraisal.
Launch your web browser and enter the url as jobberman.com in the address bar section.
Click on free cv appraisal icon at the top menu section.
Upload the CV, enter your personal information and career summary.
Click on the submit icon once you are sure that you have entered all your information correctly.
Note that once the appraisal request has been completed. The information will be use to create a Jobberman account for you if you don't have an account or will be updated to your account if you already have one.
How to Search for Jobs on Jobberman
There are thousands of job offers that are been posted on a regular basis on the Jobberman app. Job seekers who are new to this platform can easily make a quick search for their preferred job using the search bar section on the app or Jobberman website. There are also some top jobs listed on the home page section but just a quick one on the search box.
Launch your web browser and enter the url as jobberman.com on the address bar section.
Type in a keyword for the job or skill you want to search for.
Select a specialisation level you specialise in.
Now choose the job level you want and click on the search bar icon.
The user can also search for jobs using salary, location, and specialization. Start searching for a job today it's free and open to all users. You can sign up for an account if you are seeking for a job. Click on the employer section at the top left section if you are an employer.