Jiji.ng is a smart web platform where you can buy and sell anything. This is an online platform where everyone can be a sell or a buyer. Jiji online shopping is best known for its slogan which is "sell faster, buy smarter". If you are new to this portal I will be sharing some helpful tips on how to go about buying and selling on Jiji online web platform.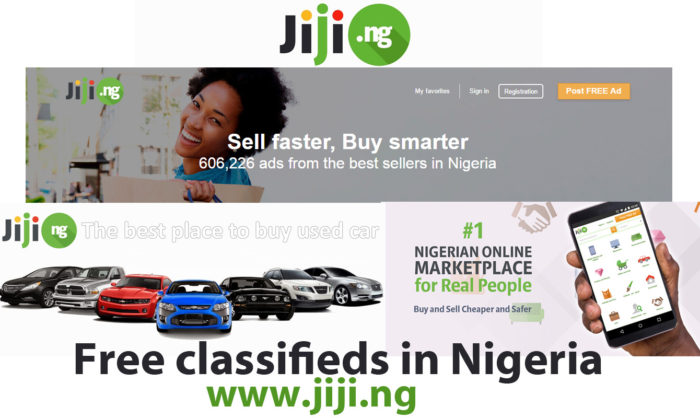 Visit Jiji.ng or Jiji Naija today and get access to purchase any item that's been advertised by a seller such as Toyota Corolla, iPhone 7 plus, Samsung s8, iPhone x, and more from the Jiji website. Are you looking for used items such as Tv, Mobile Phone, Tablet, Home Appliances, Cars, and lots more just name it? This is an online web platform that connects both buyers and sellers together. This is a trusted platform where you can get adverts on seals of use and new items.
One thing I love about this platform is that there are no restrictions on who place adverts. With jiji.ng web platform you can sell anything, just log in to the portal and place your advert so that interested buyer who is on this platform can see what you are trying to sell. Adverts on www.jiji.com are been referred to as Ads.
What's on www.Jiji.ng Shopping
This is the top Nigeria online shopping web platform where you can get access to millions of products. Users can access all the various products they want right from the main menu section. There are nine major tabs which are.
Mobile Phones and Tablet.
Vehicles.
Jobs.
Electronic.
Home and Garden.
Fashion.
Health and Beauty.
Real Estate.
Services.
A user can access all the products, Ads, and services on this platform. This is a quick search section on the web portal where a user can easily get access to a seller who wants to sell or render services he or she wants. Just like for instance the user wants to buy a cheap phone. He or she can click on the mobile phone and tablet menu tab and select a particular category to see the list of phones or tablets up for sale.
For Jiji online shop cars and other products like motorcycle, trucks, trailers, parts, and accessories click on vehicles on the main tab menu select. This is where you will find all the Jiji online store cars that are available for sale. Same as other categories. Why the service menu is where you can find all kinds of services such as rentals, fixing of cars, AC, and much more. Get access to cheap and affordable products and services only on Jiji.ng web platform.
Why You Need Jiji.ng
Do you have electrical appliances, gadgets, home appliances or thing you don't use anymore? You can sell them on jiji.ng online web platform. Meet thousands of real buyers and convert the things you don't need anymore into cash. Selling has been made so easy with just posting of Ads on www.jiji.com platform.
Ads on this platform are free and can be seen by users who login to this platform. The seller has access to upload photos of what he or she wants to sell on the web portal. There are also other important information's the seller has to provide such as short description location and mobile number.
Jiji.ng is a well-trusted web platform where buyers are advice to see the goods or product before making payment. This is to prevent both buyers and seller and from losing their money. The buyer can also negotiate with the seller and meet at a convenient location.
How to Buy on Jiji.ng
Most users are still finding it so difficult to purchase an item on this online web platform. Jiji account online shopping mall is open to all users around Nigeria. If you are interested in buying Jiji cars, phones, laptops, and other products and gadgets. I will be talking on how you can possibly make use of the web platform or Jiji app to find a real seller you can buy from.
Let's take for instance you want to buy a car. You don't know where you can get cheap cars. You can simply log in to jiji cars section on the web platform and search through thousands of cars that are available on this platform. Same goes to mobile phone and other devices and products.
How to Buy Faster and Smarter on www.Jiji.ng
As a user who wants to buy on the jiji online shopping platform. You can make use of the search box section to search for the particular item or product you are looking for. This is a quicker and a more reliable way of searching for a product. You can select a location in which you are looking for the product or item.
Enter the url in the section as www.jiji.ng in the web address section.
Enter the search word in the search box or click on the category tabs that the product or item falls in.
When you hit on the search icon you will get to see multiple Ads as regards the product or item you search for.
Click on the ads of your choice to get the sellers information and contact.
You can go through the photos that been uploaded by the seller to see what the item looks like. Please, users should note that you don't have to send the sellers any money for him to send you your item or product you paid for. Meet the seller in person make sure you see the product and check out very well before making payment.
How to Post Ads on Jiji.ng | Sell Something You Don't Need Any More
If you have something you don't need anymore why not sell it on jiji web platform? Post free Ads and get it viewed by thousands of real buyers. Below is how to get started.
Launch your web browser and visit www.jiji.ng web platform.
Click on the post free ads icon at the top right section.
Upload a photo of the item you want to sell and enter a title, category, subcategory, a short description, and the price in which you want to sell the item.
Enter your contact information such as your mobile number, region, and place.
After you have successfully entered all of the above information correctly. Click on post free ads icon below to get your free Ads published on the jiji.ng web platform.