iCloud is a service from Apple that helps you store and secure your most vital information like your photos, videos, and files. Also, keeps it up to date across all your device automatically. The iCloud Mail app is one of the services Apple where you can create an iCloud email address to unlock all Apple products or Services. It email app provides a convenient way where you can securely manage your email account anywhere, anytime at a convenient spot. It also makes it easy to share photos, files, and more with friends and family. You can also backup all your devices using Apple iCloud mail. The Apple iCloud mail app has a backup system where you can store your information. You can get back your documents, contact, and pictures in case something happens to your device.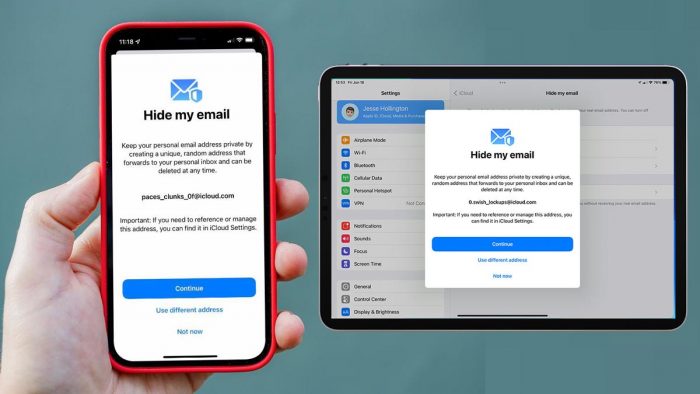 Also, when you get a new phone it is easy to transfer everything from your old phone using the iCloud Mail app. You can set up a free email account on iCloud Mail app and get 5GB of free storage for your data and use it on your iPhone, iPad, iPod touch, MacBook, and on the website. Apple is famous for prioritizing privacy and security so all data stored in iCloud is encrypted to prevent hackers and other parties from accessing your data. iCloud uses a combination of two-factor authentication and you can access your account only on devices you trust.
Create an iCloud on your iPhone and iPad
To protect your information, back up your files you need to create an iCloud mail and you can access it on your iPhone, iPad, iPod, and Mac. Here is how to create a new iCloud email account on your Apple device:
Go to your device settings
Tap on your name at the top
Select iCloud
Toggle mail to the 'On position and press 'Create.
Choose the iCloud email address you want
Tap on next
Click on 'Done
Create an iCloud account on your Mac
On your, Mac Choose the Apple menu in the top left corner
Click on system preference
On macOS 10. 15 or later, click on Apple ID then iCloud, and follow prompt
If you are running macOS 10. 14 or earlier and then you follow the instructions.
Select the tick box for mail
Choose your iCloud email address
Click 'OK' and tap on 'Create
How to setup an iCloud email on your iPhone, iPad, and iPod
After you have created an iCloud email address, you need to make sure you are signed in with the same Apple ID on each device. On your iPhone, iPad or iPod go to settings, click on your name, and then iCloud. Toggle on Mail If you want to send and receive iCloud mail on your device. To keep mail settings up to date on your device, turn on the iCloud drive and open the Mail app to view your iCloud mail.
How to setup an iCloud Mail App on your Mac
Open the Apple menu
Click on the System Preferences
Tap on Apple ID
Select iCloud
To send and receive messages on your device, select mail.
How to setup an iCloud Mail on your pc
You will have to create an iCloud account on an Apple device to set it up on a Windows pc
Download iCloud for Windows app
Enter the Apple ID and password used to setup your iCloud account
Select mail, contact, and calendars
Click apply.
How to back up your iPhone to iCloud
For a better and faster experience make sure you are connected to a Wi-Fi network. Also make sure your software is updated, once this is done proceed to back up your iPhone to the iCloud.
connect your device to a Wi-Fi network.
Go to settings, click on your name, and tap iCloud
Tap iCloud Backup
Tap Back Up Now
Stay connected to your Wi-Fi until the backup is complete. If you receive an alert that you don't have enough iCloud storage space to complete the backup, follow the instructions to buy more storage.
How to transfer data to a new iPhone using iCloud
If you want to move your contacts, photos, and messages to your new phone, then I recommend iCloud to do that. You will need to make sure everything on your old is backed up.
Follow the instruction on to set up a new iOS device.
Tap Restore from iCloud Backup and sign in to your Apple ID.
Go to Choose Backup and select from the list of iCloud backups, each with a different date and size.
Sign in with your Apple ID to restore your apps.
Now I have enlightened you now what an iCloud is, how to create, set up an account, how it works, and how to use it. If you have any problems you can head to the Apple official website Applesupport.com