How to Use Find my iPhone. Did you know that you can locate your Apple device whenever you can seem to find it or remember where you must have dropped it? Find my iPhone is an app that can help you with that. Find my iPhone is a mobile app that was developed by Apple Inc and allowed the remote of Apple devices which include; Mac, iPhone, iPad, Apple Watches, and Airpods. This App makes it very easy for you to keep track of your iOS devices and locate them easily whenever they are not with you and you have no idea where they are. But how do you use such an App without your device being present?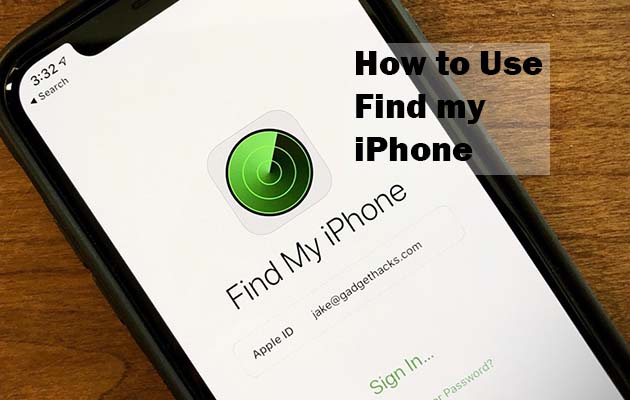 What Makes Find my iPhone so special is that not only can you use it via the app to look for your device, but also you can use it by visiting iCloud.com to find the correct location of your device. Find my iPhone cannot only be used to find your device alone, but it also renders three other services. They include; playing sounds, activating lost mode, and erasing your iPhone. However, keep in mind that the Find my iPhone app can only be used on iOS devices and not Android devices.
Can I Use Find My iPhone to find a Dead phone?
No, you cannot find your iPhone when the phone is dead as the Find My iPhone app was developed only for the purpose of tracking a lost device when it's on. As that is the only way it can tell your device's location at that moment. Also, if your phone is offline, you can still locate it using the Find my app as long as the device isn't switched off.
How Does Find My iPhone Work?
For Find My iPhone to work, there are certain requirements. Find My iPhone requires you to set up an iCloud account so as for you to be able to create your own Apple ID and whichever device you want to track must also be linked to that your Apple ID to make finding the device easier. After that, you must ensure that your location on the device was turned on before it got missing. You can use the app to do this or even visit iCloud.com to use Find My iPhone for free.
How to Find Someone Else's iPhone Using Find My
Using Find my iPhone to find either your iPhone or someone else's iPhone is very easy to do. And as you know, you cannot use an already misplaced iPhone to find that same iPhone. Therefore, you would have to use your iPhone to find someone else iPhone and vice versa. If you have misplaced your iPhone and then you do not know how to go about the find my iPhone thing, here are simple steps on how to find your device or someone else device below;
Turn on the iPhone
Open the Find My iPhone App
Click on me from the option
Select "Help a Friend"
You would be redirected to iCloud.com
Sign in for your friend to iCloud using their Apple ID
Select the device they are looking for
Once the location of the device shows that the device is close by, you can tap on play sound to help you find your device easily. But if it's far away, you can click on lost mode to help you protect your data and information and keep the device on low power mode to help you have more time to find your phone.