A lot of people use Android devices and they have lots of apps installed on them. However, it is common for tech and app developers to release updates and apps as they are set to improve their software. How to update Android apps is what makes Android users find it difficult to do. And they don't know it is possible to control the frequency of updates on their Android device.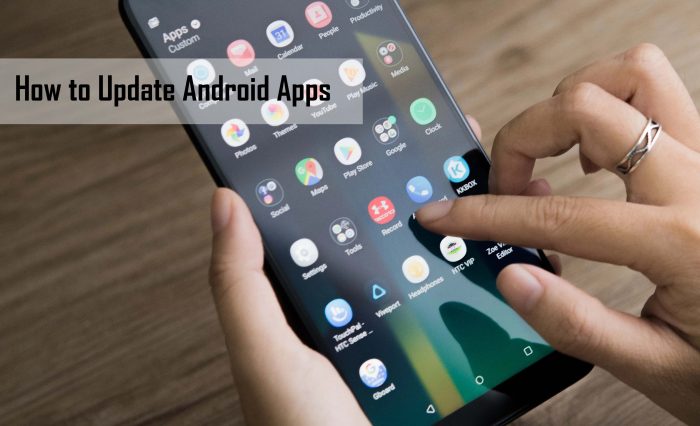 However, there are two ways in which your Android apps can be updated. They can be updated manually or automatically. Knowing how to update the play store and other apps is a key factor in keeping your smartphone software running smoothly and you can also get access to all the latest features.
There are times when you can update your apps manually and this is after you have downloaded them. But it is not difficult to alter these settings as you can start updating your Android apps automatically. Updating your apps plays a vital role in ensuring your device runs smoothly. Aside from that, it helps to improve your security and stability and it also introduces extra features.
Why should I Update my Android Apps?
How to update Android apps should not be a problem if you are already making use of an Android device. However, you are making the right choice when you update your apps manually. You might be asking yourself "what is the point of updating my apps" or "My apps are working so why to update them". Well updating your phone comes with a lot of benefits and they include.
Updating your Android apps solves the issue of bug fixes
it is important for security improvement
performance improvements are also one of the reasons why you should update your app
It offers additional features beyond performance, stability, and security improvements.
It also allows you to enjoy new features
Now aside from bug fixes, updating apps can bring stability and performance improvements to your phone. For example, if an outdated app uses more resources than requires it will attract a lot of problems to the app and this might affect your entire device too.
How to Update Apps on Android Automatically
If you are making use of an Android phone, you can automatically update your apps. It can be stressful to update apps manually but you can change that by updating your apps automatically. Follow these steps below to do so.
First, you have to open the Google play store on your Android device
After that tap the three horizontal lines in the upper-left corner of your screen
Then tap Settings
Tap Auto-update apps
After that, a pop-up window will appear asking what your preference is for the updates.
Select your preference by tapping on it.
Once you have done Tap Done
Now that you know how to update your app automatically why not go ahead and start updating.
How to Manually Update Apps on your Android
Updating apps on any Android device manually is often stressful and just in case you are finding it difficult to do so just follow these steps below.
Open the Google play store on your Android device
Then tap the three horizontal lines in the upper-left corner of your screen
Tap My apps & games after that
To continue with all pending updates just tap "Update all" under the "Updates" tab
Then to manually update each app individually
Tap on the app you want to update
If you are manually updating an individual app after tapping n the app itself, tap the three vertical dots in the upper-right corner of the screen. After that, you can also learn how to update WhatsApp without the play store with your Android device.
How to Update the Google Play Store
Google play store is a place where you can go to download apps. All Android users have a Google play store and it is usually permanent on their phone. This means that it cannot be uninstalled so follow these steps below to update your Google play store.
Open your devices settings app
Than tap security
Check for an update
Then you can follow the remaining steps on the screen
However, to check if a security update is available, just tap Google Security Checkup. And also to check if a Google Play System update is available, tap Google Play System update.