How do I enroll in Chase Online Banking? Read through this article for steps and guidelines to create a new Chase bank online account. Meanwhile, Chase Bank is an American national consumer and commercial bank offering a wide range of services. Their services include small business loans, investment advice, personal banking, auto loans, mortgages, and more.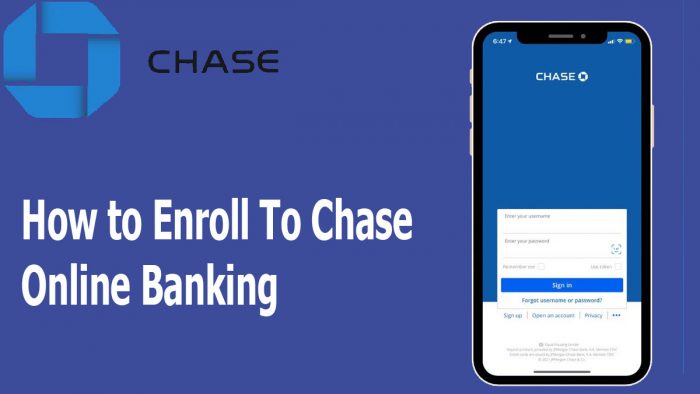 In addition, Chase Bank has served millions of customers and has been ranked among the top 100 Banks of 2022. They have one of the widest varieties of credit cards in the industry and banking experience. What's more, the experience with the bank's website is more competitive than that of other online banks. Chase bank also has a checking account that is good and they have low sales rates.
As a new or an existing customer, you can sign up for an online banking account directly from their official website or mobile app. Their online banking account allows you to manage and access their services on the go. The enrollment process is free, fast, and straightforward. Keep reading through this article for steps and guidelines to follow.
How to Enroll To Chase Online Banking with Mobile App
Using Chase for all banking experiences is one of the best choices you can make for your financial convenience. Here, we will be talking about how you can enroll in Chase online banking. The steps are as follows:
Firstly, download and install Chase Online Banking App via the Apple or Google Play Store.
Once downloaded, click on the install icon and then open the app on your device.
On the homepage, tap on "Not enrolled" if you're yet to sign up for an account.
Select the type of account you will like to sign up for.
Enter the required information and details needed based on your selection.
Then, you will select "Request an identification code" and the method you wish to get it.
Once sent, enter the code and your password and you are done.
When signing up, you only have to fill out all details about yourself that are required to complete the process.
Enrolling In Chase Online Banking Account via www.chase.com
If you happen to use your PC's webs browser for signing up for Chase Online, here's everything you need to know:
Open your computer or mobile device web browser
Click on this https://www.chase.com/ link to be redirected to Chase Bank's official website
On the homepage, click on not enrolled and this will redirect you to another page.
On the next page, your verification will be needed to determine your identity
Your Social Security number or Tax ID number, your account or application number, and access to an email or Phone number will be required
Next, you will be asked what type of account you wish to create or access online. Tour options are Personal, Business, or Commercial.
You will also see the blank lines where you are to fill in the required pieces of information, namely Social security number, account, application or card number, and so on.
Furthermore, you will be asked to create your username to access your accounts online. Your username must be 8-32 characters long, must contain at least 1 letter or a number, and no special characters like (&, %, #) are required.
Ensure that all information filed is correct before selecting next. Once you have selected it, you can no longer go back to the previous page.
On the next page, simply follow all on-screen directions until the registration and sign-up process is complete.
Once all of that is complete, you have successfully completed the enrollment into Chase Online banking. You can operate all financial activities with ease both on your web browser and Chase Mobile.
Features of the Chase Online Banking
Chase bank has a lot that it has to offer to all its customers. Along with an online banking experience, here are some of the features of Chase's Bank:
Checking account:
You get an Overdraft protection
Your card gets access to ATMs
You get a Debit card
You can use it to pay bills with ease
It can also be used in a day-to-day activity
Paper checks
Direct deposit
Also, you might get a checking bonus for opening a new checking account
You also have access to both mobile and online services such as account alerts, transfers, mobile check deposits, and many more
Savings Account:
Saving account rates to help your finance grow
You get earned deposit
Direct deposit
You earn mobile and online banking services such as account alerts, mobile check deposits, and more
Building of emergency funds
Ability to save for larger purchases
You might earn bonuses when you open your account 
These are some of the best features of the Chase online bank. There are lots more features that it can offer to you as customers.
Why Do I Need Chase Online Banking?
Firstly, enrolling in online banking gets you great features that make the banking experience much better for the rest of your time. You would be in charge of controlling your finances by transferring funds, monitoring activity, seeing statements, and more.
Also, you can perform banking activities at your convenient time. Only you get to decide when you want to run operations. You can also manage your all banking operations from a single or central location. In conclusion, their online banking method is quite competitive as they have transformed the experience of banking so you can bank your way.
How Safe Is Chase Online Banking?
Chase Online Banking is one of the safest banking experiences out there today. When you work with Chase online banking, you are the one in control of most security actions on your banking. This is because you will manage your accounts anytime and anywhere.Chase bank has granted you the opportunity to view all recent transactions, lock up your card, set up payments, and many more.
Do I Have To Be Enrolled In Chase Online to Use the Chase Mobile App?
The answer is yes. However, you can choose to enroll in Chase Online either through the link https://www.chase.com/ or through the Chase mobile app. You can also just use the ATM and a branch locator to make things easier for you.
What's more, you can simply access Chase's customer contact information without even being enrolled in Chase Online to make inquiries and more. Visit their official website at https://www.chase.com/ to check out their current contact information.