How do I buy crypto with a credit card?  If you have a crypto wallet and you're searching for ways to buy a coin using your credit card, then this article is for you. In today's article, we will be discussing step-by-step guidelines on how to buy Cryptocurrencies using your credit card. It is, however, worth noting that, purchasing crypto with your credit card is possible but most card issuers especially in the United States don't allow the purchase of crypto using credit cards. Other issuers charge their cardholders fees.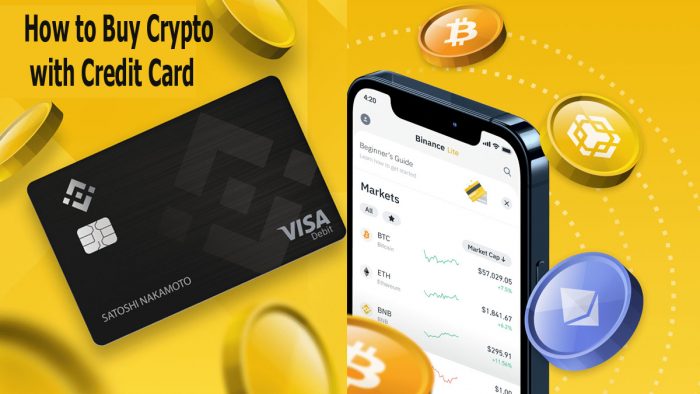 We advise you contact your credit card issuer before purchasing Cryptocurrencies using your credit cards. Also, you need to consider certain factors before deciding whether or not to purchase a coin using your card. Nonetheless, purchasing crypto with your credit card is easy and can even earn you a reward depending on your issuer. You can check out the steps and guidelines provided in this article to get started.                      
How Can I Buy Crypto With Credit Card?
There are several ways you can buy crypto with a credit card and more ways are convenient. Before you can proceed to buy crypto online, you need to first have a cryptocurrency trading platform.  This cryptocurrency enables you to change your US dollars with Bitcoin or other cryptocurrencies. Some of the best cryptocurrency trading apps that do accept credit cards:
eToro
Paybis
CoinSmart
Bybit
Binance
Bitpanda
Kraken
SimpleSwap
Coinmama
Pionex
These are some of the best trading apps and places you can buy bitcoin using just your credit card. There are pretty simple and easy to use. You should try them out if you are interested in purchasing crypto.
How to Buy Crypto with Credit Card
Meanwhile, the process of buying crypto with your credit card is not difficult. The steps to help you achieve that goal are detailed in this article. Firstly, you have to make sure the cryptocurrency trading app you use can accept credit cards. This applies to any other cryptocurrency trading apps out there. You can check out any of the cryptocurrency apps listed in this article. Here's what to do to start buying crypto with your credit card:
First, open the cryptocurrency trading app that you will be using
Visit the payment method page where you will add your credit card
Next, add a Credit/Debit Card
You will then input your card information in the places they are required. Note that the address has to match the billing address for the card
You might be required to add the billing address for the card
Now, you only have to follow all the on-screen directions to complete the buying of bitcoin or other cryptocurrencies
Finally, you will be charged for your credit card balance to make the purchase. If that method doesn't work, it means that the credit card you chose doesn't accept the use of the card to purchase crypto.
Can I Buy Crypto With a Credit Card Without Verification?
The chance of whether you can buy cryptocurrency with a credit card or not depends on the type of platforms you use. On the contrary, if you are required to provide proof of identity, you might have to submit a copy of a government ID. IT could either be a passport or a driver's license.
However, it might be next to impossible to purchase a cryptocurrency without verification. You need to get verified to complete the transaction and an OTP code might be required. Although this may be true, there are also other payment plans and trading apps that do not require verification. Some of these apps include Paxful, P2P Exchanges, Bitcoin ATMs, and more.
Alternative Payment Plans to Buy Cryptocurrency
As noted, there are many other payment plans you can use to buy cryptocurrency. These alternative methods include:
Debit Card
Skrill
Alipay
Venmo
Google Pay
PayPal
Wire Transfer
Apple Pay
Payoneer
Bank Account
These are the best alternative methods you can conveniently use to buy crypto. Even better, another way to get crypto is to conduct a crypto exchange where you can easily change one cryptocurrency with another.
How to Buy Crypto With Google Pay
Another smart way to purchase crypto is with Google Pay. There is a cryptocurrency exchange platform called Crypto.com and it has begun allowing its millions of users to buy Crypto using Google Pay. For you to purchase crypto on its apps though, you need to first have a debit or a credit card that is connected to Google Pay.
First, ensure that your credit or debit card is connected to the Google Pay account. Once confirmed, it is now ready to use. If you ever want to purchase the Crypto.com app, you can simply select the Google Pay option. You only have to accept the card processing fee and finally complete the purchase.
With this in trend, making payments for crypto is now more convenient and makes it easy to familiarize with. In conclusion, Android users are now able to pick from over 250 cryptocurrencies to purchase. All they have to o is use their tablets, smartphones, or their virtual wallets to make payments.