How do I buy books on Audible? Are you an avid book lover who would love to learn easy ways to go through books faster? Would you like to know the best ways to purchase your favorite books? Luckily, all you need is detailed right here in this article.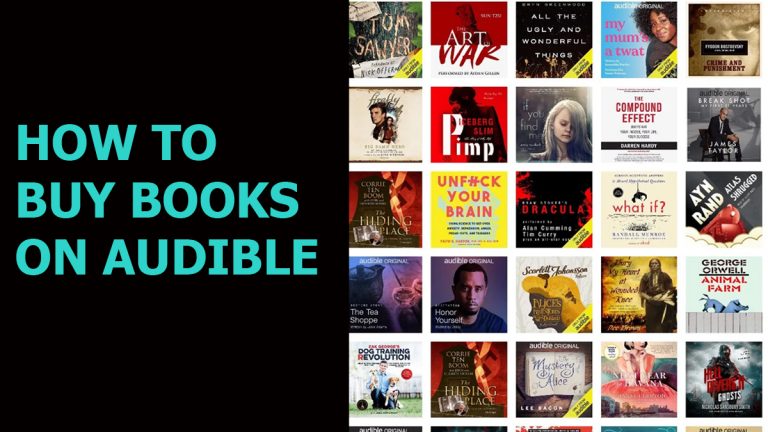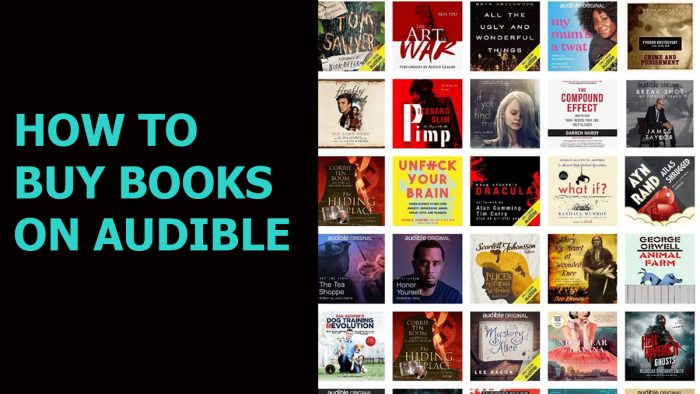 What is Audible?
Audible is a well-known digital company that produces and sells millions of spoken audio content to millions of people around the world. Launched by Amazon, they offer various content like TV and Radio programs, as well as delivering digital audiobooks. This method of reading has greatly made things easier for people who are looking to go through their digital book library at a faster rate.
As the years pass by, Audible has gained recognition as one of the largest platforms where users can easily listen to podcasts and audiobooks with so much ease. When you have Audible, you get easy access to all sorts of books like fiction, history, memoir, nonfiction, and many more. There is a lot more detail about this amazing audiobook platform that you need to know. Read on in this article to learn more about how you can download books on Audible.
How Much Do Audiobooks Cost On Audible?
Audible independently offers a credit system of its own where you subscribe to an Audible subscription. Subscribing to an Audible subscription enables you to earn one or two credits a month to spend.
The price of an Audible audiobook varies according to different terms. Most of the audiobooks will simply cost you a cent, whilst most works ranging as significant may require 2 credits. Most short works may require a fraction of a credit. The subscribers to an Audible subscription can purchase an extra book without credits. This earns them a 30% discount and all. Meanwhile, in most cases, you can just take advantage of a free trial on Audible. Their current Audible membership plans include the:
Audible Plus: Unlimited access to audiobooks, podcasts, and Audible Originals at $7.95 a month
Audible Premium Plus: They offer a free premium select title' per month and is a permanent purchase you can keep as an audiobook. This is still available even when you quit using Audible and it is priced at $14.95 per month. You can check out the next outline for steps on how to buy books on Audible.
How To Buy Books on Audible on iPhone Through Browser
If you want to buy an audiobook or podcast from Audible and you use an iOS device, this might be a difficult task. An iOS device doesn't readily support in-app purchasing. However, it is quite possible to do so through your iPhone browser. Here's how:
Visit Audible.com through the Safari browser on your iPhone
Tap the menu button and the sign-in icon.
Input your Audible or Amazon account information and then tap on 'Sign In' to login into the Audible website
Find the Audible book that you are interested in purchasing
You can type in the book title or the name of the author in the search bar and click the 'Search' icon to find the book
Once found, Buy the Audible book on your iPhone as you will see the price icon below. You will go to the product detail, scroll down to find, and then select the 'Buy Now for $……' button
Confirm the purchase and then you will be redirected to the page that says 'Thank You.
Now you have successfully downloaded books on Audible on your iPhone.
How To Buy Books On Audible On Mac, Chromebook, or Windows
By the name of the devices listed above, you can tell that they are Personal computers. This section will tell you how you can download an audiobook on your PC. No matter the PC you use, you will be accessing books on Audible via web browsers. Here's how to do so:
Open the web browser of your preferred choice
Visit the Audible website of your choice on the selected browser
You will sign in using the Amazon account credentials you have
Next, you will browse for the audible book you want until you find it
Select the chosen title
Set up an Audible account if you don't have one set up already
Include your payment information
Finally, you will confirm the purchase of the book you wish to buy
Now, you have successfully purchased an audiobook on Audible on your Preferred PC.
How To Buy Audiobooks On Audible On Amazon?
You can purchase books directly from Amazon without so much hassle. Here's how to do so:
If you are downloading on the Desktop Site:
Go to the Audible section you find on your Amazon account on the desktop site
You will sign in with all the accurate credentials of the account
Next, search for an Audible title you will like to purchase
Click on the title of your choice and then select your payment section
If you are not an Audible member, select the Try Audible Free or Buy with 1-Click
If you select the Free Trial, your payment method will be charged after the 30-day trial given to you ends. This won't happen if you cancel
On the other hand, if you buy the audiobook with the 1-Click, you will be charged the full price for the audiobook of your choice
However, if you are an Audible member, you can select Buy with 1 Audible Credit orBuy with 1-Click. If you do not have a remaining credit with your Audible membership, there will be no other option of purchasing with a credit available.  What you can do is purchase the audiobook with the 30% off member discount that has been offered to you.
How Do I Purchase A Book On The Audible App?
This procedure should be a bit easier to accomplish especially if you use this on an Android phone. However, you have to check if this app is available in your region first. To download books from Audible, all you have to do is:
Visit your Playstore and download the Audible app
Once it is installed, open the Audible app on your phone
Click on Discover
Once it opens, you can begin searching for the book you wish to purchase
Once you have found it, you can tap on the audiobook and add it to your library
Next, you will click on Buy with 1 Credit
Tap on Confirm
Once you have confirmed your purchase, the audiobook will be added to your library.
However, if you cannot access the Audible app on your Android, you can access it on your phone web browser. You can just sign up and get to purchasing the audiobook you want.