How can I add music to Instagram story or how can I put music to Instagram stories. In this article, you can learn how to add music to Instagram story. However, Instagram Music is a feature that was released on June 28, 2018, to enable Instagram users to add music to their Instagram stories. However, the introduction of music in Instagram stories is a feature similar to the concept of adding music to your Facebook stories. There are lots of popular soundtracks in which you can put to your Instagram story.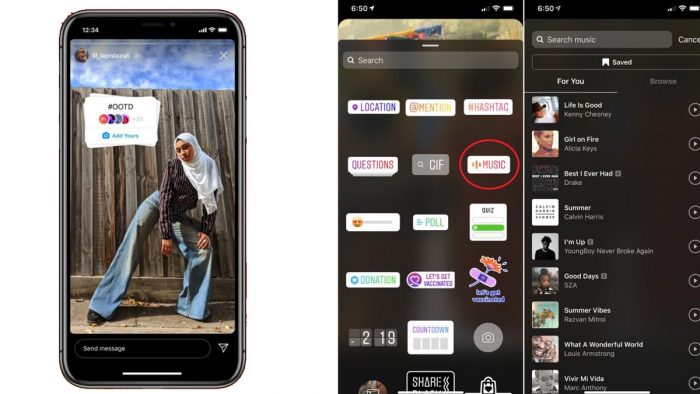 Furthermore, Instagram music allows you to add music to your Instagram story that corresponds to what you're feeling. Also, adding a soundtrack to your stories also helps to express your feelings or how you feel at that particular moment. Currently, there are overestimated 400 million users that make use of Instagram Stories. The addition of the Instagram music library makes it more exciting to connect with friends, family, and followers. Learn more about the music on Instagram and how to get started with your own Instagram stories music.
How to Use Music Stickers on Instagram Story | Instagram Music Sticker
First of all, friends or followers watching your story can hear the song play while viewing your photo or watch your video. During the process, a sticker is displayed that shows the title of the song and the name of the artist. However, the music sticker is a fascinating feature that's accessible as part of Instagram version 51 in some parts of the country. However, you can use Stricker during the process of adding songs to the Instagram story. There are several series of Instagram Stickers that includes donation sticker, challenge sticker, quiz sticker, question sticker, music stickers and lots more
How to Add Music to Instagram Story
On the contrary, adding music to Instagram Story is a very simple concept that you can perform all by yourself. If you're well familiar with how to put music on the Facebook story, then you can also find this similar as well. However, here is a simple guide on how to put music on Instagram.
Open your Instagram app on your mobile phone.
Then, click on add a sticker to a photo or video in Stories.
Next, you can click on the "Music" icon.
This will open a full collection of thousands of songs.
You can search for the specific song you want to add to your story.
Simply, use the search option that includes "browse by mood, genre and what's popular".
Next, click on the song to listen to.
Select the song and select the part you want to put on your Story.
Finally, you can upload your Instagram Story.
Besides, you can also select a song during your video capture. All you need to op is open the camera, swipe to the new "music" icon which is accessible under the record button. Then, search for the song and select the actual part you want to play. Finally, you can start recording while the song continues to play in the background. That's all you need to know about how to add song to Instagram story.
How to Add Song to Instagram Story with Music Sticker
In the you can't find the song from the list of Instagram music library to add to your Instagram story. All you need to do is install a music streaming app on your device like Spotify or Apple Music to play on your Instagram story background.
Open the Spotify or Apple Music on your device.
Then, select the song you want to play on your Instagram story and click Play.
While the song still plays, you can open your Instagram app.
Then, start the recording.
While you record your story, the song playing on your devices will be sync to your Instagram Story. Keep in mind, you can't add a dynamic album or even live lyrics. Also, you need to understand, that Instagram will check for copyrighted music on Instagram Story. In case Instagram detects a copyright infringement, then your song or sound will be removed from your video