In this world of digital technology, we live in now, everything can now be done with as much ease as possible. One of the brand creations that makes the list is the Google Stack. The Google Stack is an app that does the work of scanning and filing documents on your mobile device. What it also does is that it first photographs and then it stores bills, receipts, and many other papers as PDFs. It also organizes them into various categories for later use.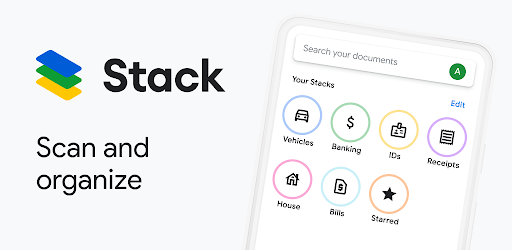 This app is created by Google and perfectly fit the theme of 'Ease with Digital Technology' as using this app and all its features provides you the privilege to get a lot of work done with a single tool.  Furthermore, it is also free to download. It can be used on your mobile devices and tablets, and take the stress from manually working with papers all day long. 
Even though it is in its early stages of development, it has provided a lot of amazing features that automatically transits work into PDF. Using this app of course means that you would be agreeing with Google's Terms and Services. There is a lot more to be learned about Google Stack. Read on in this article to learn more about it.
Is Google Stack Safe?
The Google Stack uses Google's top-notch, advanced security and sign-in technology to prevent scams and protect all your documents. If you want to take safeguarding a little further, you can simply scan your face or a finger every time you want to unlock the app.
Features
Google Stack is pretty handy if you are a professional who deals with documents and its scanning all day. There are tons of amazing features that the Google Stack possesses that make it the reliable app that it is. Some of the best features of the Google Stack include:
Reduction of Paper clutter as it is a document organizer and more
It easily transforms all your scanned documents into documents that are of high quality
It is highly secure and private since it's covered by Google's world-class security
It is a tool that makes organizing documents super easy as it organizes documents into easy categories
Using the Stack app helps you easily find and display all the important details in your document
It automatically backs up all your documents to the cloud and you can also save a copy to your Google Drive.
It has absolutely no watermarks
It can also share your documents that have been scanned through your email
What's more, it imports all files from your gallery, your camera or your files.
The Google Stack is completely free and doesn't have any annoying ads or in-app purchases.
Stack has an OCR scanner that easily allows you to search for any text within your document
Furthermore, Stack can easily be used as a receipt scanner, a bill scanner, an invoice scanner and many more
These are some of the well-known profitable features of the Google Stack that has all its users in high support of it. Using the Google Stack
How To Set Up Google Stack
Now that we know all the possibilities of the Google stack, you might wonder just how you can use the Google Stack to your fullest advantage. However, no matter how swift you want it to be, you have to set up the app before use. To set up the Google Stack, all you have to do is:
First, download the Stack app on your Android device
Once installed into your device, open the app and briefly select the Google account that you would like to continue the process with
Next, click on the Continue button
Once the next page loads, click the Allow icon so that the app will get permission to access your media
Next, you will click on Allow or Deny to the option presented to add new documents to the app automatically.
You will then swipe through the intro pages until you get to the end
Finally, you will click the Done button
Once you follow all the steps correctly and it works. Then you can now use the Google Stack to get your work done easily. 
How Do I Use The Google Stack?
Now that you have successfully installed the Google Stack, it is now perfectly fine to use. To use the Stack on your mobile device, locate the screen with two tabs: Home and All Documents. You should also see a plus button on the right above the tabs. Once you have located that, there will be categories of documents at default with a search bar at the very top. This is where the scanning begins. Here's how to do so:
Once located, click on the Plus button located at the bottom right of the screen
The next thing you will see is a menu with three options namely: PDF, Gallery and Camera
You are to select the Camera option. If you want to save a PDF from your device to the app, you can select the PDF option. What Gallery does is allow you to save a photo from your device as a PDF to the app.
The next thing to do is click on Allow to let Stack use your camera
Carefully align all corners of the viewfinder that appears with the corners of your document
Click on the Scan button
Once the scan is done, you actually have the option to add more pages, adjust color, or Crop and Rotate.
Once you done all adjustments to your liking, you will click on the Save button
Next, you can name your PDf by typing in your desired name In the Section titled, 'Name'
Below the Name section, you can click on the relevant stacks so that they will be highlighted to place your PDF into any of those sections
Once you have done that, you can then press the Doe button to save the PDF.
With all of that followed, you have successfully scanned a document right into Google Stack. This means that you can use this as many times as important as your job is.