How to Upload Image on Facebook Comment 
We all know that Facebook as a social media. We're we meet people every day and say one or two things about our self on this great social networking platform.
Posting Facebook comment is a way of communicating to one another on this great social networking platform. Now you can share photos in your comments section.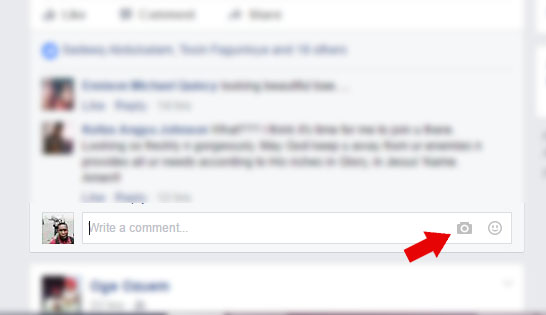 This is a new feature that has been added to on this platfrom. When someone write a comment, a photo can be attached to the comment. For better expression of feeling and thought.
Normally, to share photos in a Facebook comment. a user has to upload a photo on third party websites like Twitter, Flickr and then paste the URL of the uploaded photo. The thumbnail of that image will show up in a comments section.
With this new feature. High-quality image can be displayed in the comment section. Now one can no longer upload photos via other social media with the new Facebook comment section. We can upload photos directly
How to add photos to Facebook comment
 Login to your account by entering the url in the address bar as www.facebook.com or you read our Facebook login tips.
Locate any post or uploaded photos of. Your friends and click on it to open the comment section.
Write your comment. At the right end of your comment section, locate the camera icon and click on it.
Select the photo you want to upload which is stored on your computer or your mobile phone.
After selecting, the photo will be uploaded automatically on your Facebook comment section.
This is a newly added feature that's been added to Facebook comment section. Users don't have to make use of other third party websites anymore. They can upload a photo right from the comment section on Facebook.