You have many alternatives to choose from when it comes to finding the best place to save your money. If you are confused about deciding between a big national bank or a Credit Union, then there are key factors you need to put into consideration. Moreover, the two financial institutions have their pros and cons. However, it is best you know the key difference so you know where to put your everyday cash. Find out the difference between a bank and a credit union.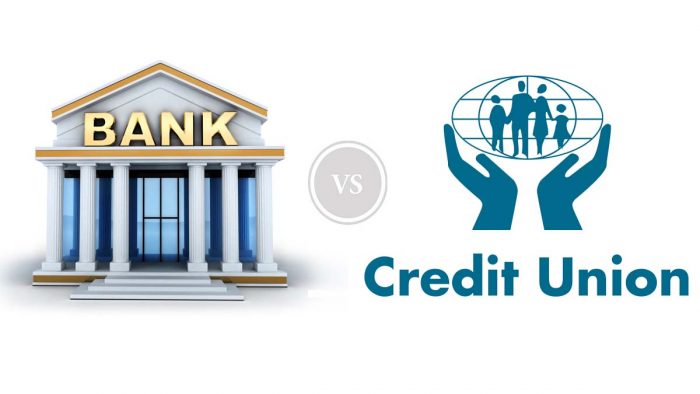 Although Banks and Credit union offers similar financial service to customers, there is a distinct difference between a bank and a credit union. The major difference between a bank and a credit union is that a bank is a majorly for-profit institution and credit Unions are for non-profit institutions. You may be wondering what this means, banks are in the business of enhancing profits and issuing dividends to their stockholders. But credit unions put back every profit they get into their member's needs using lower fees, better interest rates, added locations, and more ATMs.
What is a Credit Union?
Credit Unions are a non-profit financial institution that is owned by their members. They provide the same financial service as banks. However, every profit made is returned back to members through interest and other advantages. So therefore members usually benefit from the low-interest rates on loans, better rates on deposit accounts. But Credit unions have a basic membership requirement which is based on your location, place you work or worship or the people, you associate with.
What is a bank?
A bank is a financial institution with the authorization to hold and lend money. It offers many financial services which include checking and savings account, credit cards, personal loans, mortgages, car loans, small business loans, and more. However, a bank can select what service they want to offer and where it wants its operations to be.
Why choose a bank
If you are in love with in-person interaction, then a bank will be a better option for you to stash up your cash. Banks have many branches all over your locality and across the country. They also provide new and advanced technology every time in order to give you an exclusive banking experience.
Why choose a Credit Union?
Credit Unions put the needs of their members first. And they also make sure to set up simple terms for their members to enjoy. Also, they offer higher interest rates on deposits than most local banks. In fact, they offer low-interest rates on loans to their members.
What to Consider when choosing between a Bank and a Credit Union
Choosing between the two involves some balance:
Credit unions majorly provide higher interest rates on savings and lower interest rates on loans. But banks usually acquire new technology and tools quickly most especially online banking. And this technology will be able to provide higher-than-average interest rates. Also, Banks have many ATM and branch networks all over the State. But Credit unions usually belong to large ATM Network corporations like Allpoint.
Banks are for-profit institutions while credit unions are non-profit institutions:
Banks are for-profit institutions because they have Stockholders. Hence, banks are aimed at enhancing their profits in order to make more profits for their investors. And they provide service to all of their customers. But credit unions are made to serve their members. Credit Union provides financial services to its members on the most beneficial terms that it can offer. However, membership is dependent on location, work, place of worship, association, or other qualifications.
How many branches and ATMs do they have:
if you would prefer in-person service to online banking service, then you should consider the number of branches available? You can make use of the Credit union near me to check out for a local branch around you. You can also check out for a community bank if you would like to stash your cash in the bank.
Financial service and products:
Unlike Credit Unions, the bank offers a wide variety of financial services. Banks provides commercial and banking products like checking and savings account, Credit cards, auto loans, business loans, business credit cards, and more. They also offer investment options to customers. Why do credit unions provide fewer financial products than the banks most especially in the business areas?
Are Credit Unions safer than banks?
Credit unions and banks are both considered to be safe. Banks are insured federally by the FDIC so also Credit Unions are also insured by the NCUA. So the two financial institutions are both considered to be Safe. You can now decide where you would like to save your everyday money.