Searching for Updates on Apple Event 2022? Read through this article to the end. Meanwhile, Apple Event is an important event hosted annually by Apple Inc. In which the company announces new products, products redesigns, and upgrades. According to research, more than a million people from across the world watch the event. This event can be streamed via the Apple official website or via their YouTube Channel. At the 2021 Apple Event, we saw the introduction of Apple Products such as the Apple TV 4K, the new iPad Pro, and a lot more. And this year won't be an exception; the Apple Event 2022 which has been slated for March 8 is one of the most anticipated events.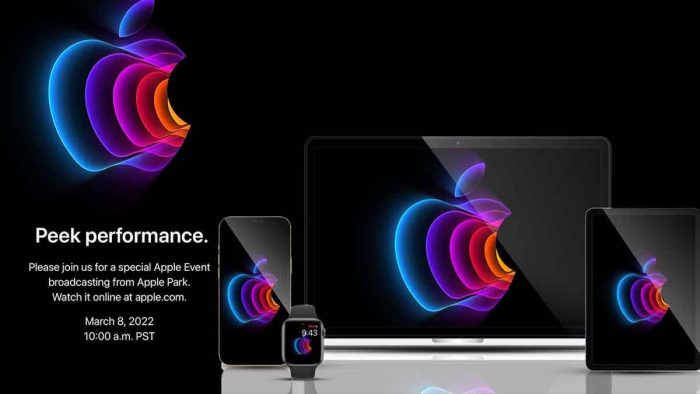 In fact, rumors and leaks from top websites as it that; Apple Event 2022 might kick-off 2022 with a bang. Apple 2022 Event might feature the announcement of a new third-generation iPhone SE. A new iPad Air, and maybe a brand new Mac with an Apple Silicon Processor. It is also possible that Apple might new services could be announced from Apple TV+, Apple Fitness, Apple Card, and more. In addition, we might also witness the introduction of new series and shows coming to Apple TV+. Including entertaining new shows and anticipated second seasons. You can check out the next outline to find everything about the Apple Event.
Apple Event 2022 Products and Services Rumor
There are several rumors as mentioned going around the internet about new products and services as well as updated Apple Series which is to be expected in the Apple Event 2022. Note that; not everything might be announced but maybe at least two or more should be announced by apple. One of the trending rumors is that Apple might announce the iPhone SE third Generation in its 2022 Event. The rumor also says that the device might look like iPhone 8 but with a good camera, a new A15 Processor, and might be Apple's most affordable 5G iPhone.
Another product that is to be announced is the iPad Air5th generation which will come with an excellent design. Plus, an upgraded A15 processor, 12 Megapixel ultra-wide front cameras, and a 5G cellular equipped model. In addition, they could have a higher Mac Mini Variant with M1 Pro and M1 Max Processors. It is also possible that Apple Might announced a 13-inch MacBook Pro with an M2 Processor in its 2022 event but there all still speculations for now.
When is Apple 2022 Event Taking Place?
Apple Event for 2022 will officially take on the 8th of March at exactly 10 AM Pacific Time at the Steve Jobs Theater in California. In as much as the event will take place at the Apple Park Campus but it is still an online event due to the ongoing pandemic. Note that; the tagline of the Apple Event for 2022 is Peak Performance and the countdown has already started.
How do I Watch Apple Event?
You can watch the Apple Event 2022 online by visiting the official website of Apple via your PC or mobile web browser. In addition, you can make use of the Apple TV app to watch the Apple event live and for free. Finally, you can stream or watch the Apple Live Event via their YouTube Channel. Simply download and install the YouTube app on your device or visit YouTube via your web browser. Then, search for the Apple Official YouTube Channel to stream the Live Event.